Your Support is Welcomed and Appreciated
---
Use this Site Map for Navigation of this GPSSV site== SITE MAP With A Search this GPSSV Site Link

---
SITE TABLE OF CONTENTS
| About Us | Alex Rhoda Books | Like Alex's Fan page | Alex's Titles on microfilm | Alex's Titles library Donation | book announcements | The descendants of angus john donald cameron family blog | Churches Glengarry County Area & BMD Records | Connections | Contact Us | The Glengarry Book Blog | Genealogy Books links | Glengarry Area Cemeteries | GPSSV Home Page |GPSSVlinks | GPSSV Locator Place Names | Gravestones of Glengarry | Gravestones of Prescott | History | HomePages with GPSSV Connection | Local Groups, GPSSV Area Newspapers | MacDonalds of Loupe Lundie Fraser conections V3 | McNaughton Book Blog | Museum Page | Nicknames | Other GPSSV area Books | Page Finder | Photos | Rhoda's paintings | Rosary | Site Map | Source of Supply | down load Alex & Rhoda's Title list in pdf format |||| Alex's Official Bitron Page Use Bitron For A Healthy Vehicle | To your Better Health | Cleanse your Body |Business opportunity - your choice

Our titles in most cases are always available for those interested individuals who desire to purchase a copy
---
Old Fort Cemetery Coteau du Lac
THIS Cemetery is about 150 by 150 feet and is surrounded on three sides by houses, which are facing the streets Chemin Du Fleuve and Rue Du Fort. It is opposite the grounds of the FORT COTEAU DU LAC on the west side. When we visited this cemetery in late June 1985 to re check the inscriptions, it was a hay field and some of the edges, on all sides being cut. During this visit we found 31 stones with readable inscriptions, 2 less than when it was first copied three or four years earlier. it is an abandoned cemetery, probably Anglican or maybe baptist, but we are not sure.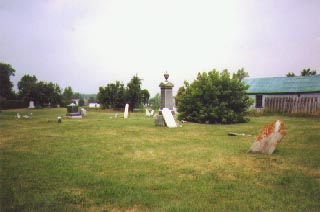 THE OLD CEMETERY AT COTEAU DU LAC

George West 1882 - 1946, beloved husband of Clara Andersen 1881 - 1983. Julius Andersen 1855 - 1945 his wife Clara Parr 1858 - 1946.
WEST

Edith Coleman 1881 - 1944 wife of George Young.
YOUNG

Sacred to the memory of George Eagles a native of England who died 28 July 1855 aged 35 years.
As a token of esteem, his fellow workmen have erected this stone to his memory.

In memory of Norman Bell died Feb 9, 1904 age 5 days.

In memory of William Eric Wade born & died Feb 26, 1904.

(broken in two pieces)
In memory of Sarah Cooper native of Sheffield England and wife of Joseph Class Cowley.
She died on her husbands farm at Bisson Point in the parish of St. Clement and was buried here Sept 6 1867.

And in Memory of Joseph Class Cowley husband of Sarah Cooper also a native of Sheffield England, he died on his farm ___________ and was buried here Aug 28, 188_.

Erected by Robert Jackson in memory of his infant son John and wife Christiana McLellan, the former of __________ died on the 15 Dec aged 11 months and the latter on 25 Dec 1842 aged 19 years

In memory of John Reay born July 14th 1833 died Jan, 7th 1912. Mary Reay born June 5th 1845 died April 4, 1915, also William Reay born June 5th 1831 died July 27th 1901 interred at Drummonville, Quebec. Robert Reay Interred at Pheonix Arizona U.S.A. Children of Joseph & Janet Reay .

In memory of Joseph Reay born 17 March 1800 died 26 Jan 1859 his wife Janet Mary Yarker born 6 Sept 1805 died 26 Mar 1880. Natives of England. Also their 4 children.
Maria died 31 July 1836 or 56?
Mathew died 15 June 1870 or 40?
Robert died 16 Dec 1871 or 41?
James died 22 Dec 1871 or 41?

In memory of John Ewart of Cumberland England died Aug 13th 1890 aged 84 years. Also his beloved. wife Sarah Boston (of Quebec city) died Dec'r 10th 1862 age 56 yrs.
EWART

In memory of Sarah J. Ewart wife of John Hazlett died March 5 1879 age 29 years.

Health did to me no winning ______,
Therefore be careful how you live,
I had no time to speak my mind,
To weeping friends left behind.

A loving wife as gone to rest,
Sh's left a world of care,
She's leaning now on Jesus Breast,
Pure angels love to share.

Johnson Briggs entered into rest January 2nd 1879 aged 60 yrs.
For as in Adam all die even so in Christ shall all be made alive"

Erected by Mrs. Eliza McPherson to the memory of her father Robert McIntyre who died Mar. 18, 1871 ae. 83 yrs 1 mos 18 days.
And to her mother Margaret Mary

Sally wife of Rufus Hosmer died Mar 24 1871 aged 92 yrs & 3 mos.

Father
Hirman Pratt Hosmer born July 24th 1821 died October 18th 1895, his son William Henry Hosmer born January 24th 1850 died October 3rd 1887. his mother Sally Page wife of Rufus Hosmer born December 11th 1775 died Marc 24th 1871
HOSMER

SOUTH SIDE
Davis Grange born Aug 1, 1790 died Oct. 1, 1858. Rebecca Odlam wife of Davis Grange born Sept 23, 1789 died Mar. 18, 1873 aged 84 yrs 6 mos.
WEST SIDE
Mary Ann Scott widow of the late John Grange and wife of Thomas Grange died Dec'r 12th 1878 ae. 57 Yrs 10 mo's.
EAST SIDE
Eliza Grange wife of Mathew Briggs born June 10th 1826 died Dec 10 1860 age 34 yr's 6 mo's.
William Henry Grange born Aug. 4. 1832 died Mar. 4, 1867 ae 35 Y's 7 mo's.

In memory of William Waters a native of Caithness Scotland who departed this life 28th October 1851 aged 73 years.

Sacred to the memory of Jane Clarke, daughter of William Clarke and Felicit his wife who departed this life on the 15th day of October 1832 aged 44 years ??

Georgiana Perry beloved wife of Cha's 0. Pease, who died Feb 16, 1875 ae 34 years .
Blessed are they who die in the lord

20 Lucy Ann Pease wife of W. G. Perry died Apr 30,1864 age 26 yrs.

SOUTH SIDE
Lucy Ann Pease wife of W. G. Perry 1837 -1864. Edmund Chard Pease 1851 - 1898. Lydia Adelaide Pease 1846 -1899.
NORTH SIDE
Asael Josiah Pease 1830 - 1831. Delia Eliza Pease 1840 - 1841. Daniel Albert Pease 1849 - 1852. Anna Maria Pease wife of Chas McLean 1832 - 1857.
WEST SIDE
Orton Pease born Mar 30 1808 died June 17, 1892. Mary Hare wife of Orton Pease born Dec 10 1815 died Aug 9, 1884.
PEASE

(stone broken in tow pieces)
Sacred to the memory of Mary Hare beloved wife of Orton Pease born Dec 10 1814 died 9 Aug 1884 age 69 years 8 months.
Blessed are the dead who die in the Lord.

In loving memory of little Walter Farris born Oct 9th 1891 died July 9th 1894 age 2 yrs & 9 mos.
For such is the Kingdom of Heaven

Richard Grange 1814 -1894
GRANGE

WEST SIDE
In memory of John Edward died Mar 22, 1847 age 6 mos22 days.
Elizabeth Prudence died Mar 10th 1856 are 7 mos 26 dys
Charles Arthur Westley died Oct 20 1856 aged 12 years 5 mo's 8 dy's.
Henrietta died Feb ___1859 aged 8 yrs 3 mos 29 days.
Alexander Houston died March 27 1868 aged 3 yrs
Balih(?) Houston died Feb __1861 aged 8 yrs 5 mo's. 27 days
William Hamilton died Feb__1885 aged 26 y'rs

In loving memory of Edwin G. French died June 21, 1930 age 81 yrs 3 mos 9 days
FRENCH

NORTH SIDE
Catherine, Tommy, David, Willie, Ida, Ettie, Ernest, Arthur Children of Charles C. & Sarah E. McFall.
EAST SIDE
Charles C. McFall died Dec'r 20,1878 aged 56 years. Sarah E. Scott his wife died May 14, 1881, aged 52 years, Charles C. McFall their son drowned at Brockville June 30, 1889 aged 35 years.
SOUTH SIDE
Mary Ann McFall died Feb'y 16 1882. Eva McFall died Nov'r 4, 1880 Archibald died July 1895. Benjamin Henry October 1897

To the memory of Thomas Kennedy aged 63 years and his wife Mildred Ellison 49 years were drowned Sept 14, 1853
(rest missing, buried in ground)

Lydia Ann daughter of John J. & Ann Jane Loy died Feb 26, 1842 ae 4 yrs & 10 mo's.
Ere sin could bids or sorrow fade,
Death came with friendly care,
This opening bud to heaven conveyed,
And bud a blossom there.

Asahel J. son of Orton & Mary Pease died Feb 2 .1831 ae. 2 mos. also Delia Eliza died July 11, 1841 aet 1 mos.
The brother & sister sleep,
In silence here together,
but long ere this their precious souls,
Have joined the heavenly choir.

Sacred to the memory of Anna Maria Pease wife of Charles McLean who departed this life_____________
(rest of stone missing)

(stone missing as of June 23-1985)
Peterson Brydges 1913 - 1935

(stone missing as of June 23. 1985) [in NE corner]
ROEBECT
In loving memory of Marianne Roebect died May 16, 1913 also mother and father.
---

Back to Lonely Stones
From the Files of Alex Fraser
Page Created June 10.01
updated 7/12