MAY JESUS AND MARY ALWAYS BE PRAISED
---
The Descendants of Angus, John and Donald Cameron

Back to GPSSV County Home Page
Back to Alex's Book Page

---
Our titles in most cases are always available for those interested individuals who desire to purchase a copy & support our efforts. Thanks for this act of Kindness. AWF
---
---
Back to Family Histories

Kindly Allow Sufficient Time for Processing of your order, for delivery to your Location
cat #2108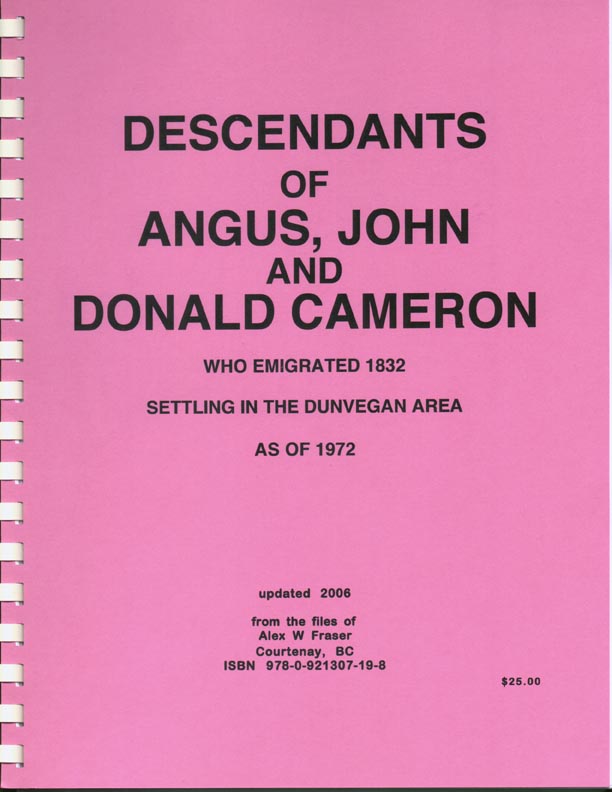 The Descendants of Angus, John and Donald Cameron
Emigrated 1832, settled in Dunvegan, Ontario area. Original 22 pages done by Gertrude Cameron, Toronto, Ont. 1972.
This edition updated/enlarged by Alex W Fraser, now 88 pages, softcover, cerlox bound, ISBN 978-0-921307-19-8,
Cost $25.00 Can funds in Canada, S&H $6.50 Total $31.50
Cost $26.00 US funds to USA, S&H $7.50 total $33.50

Click on book title to visit this Cameron Blog

This enlarged update includes a full name index under 9 headings - 14 pages, [surname, christian, birth, death, spouse, parents, location, page, notes] with info on person concerned supplied from original 22 pages of family history; 24 full gravestone inscriptions - 4 pages; Obit/Marriage notices 29 pages; about 3 pages of church marriage records, 13 entries; 10 page outline on another Angus Cameron who also married a McLean, also settling in Dunvegan area in the early 1830's. A 1 page list of A-Z names in the update.

The Descendants of Angus, John and Donald Cameron
Table Of Contents
Cameron Family history ..... p.3
John & Annie McDonald ..... p3
Angus & Salania McLean ..... p.3
Donald & catherine McLennan ..... p.7
Norman & Sarah Campbell ..... p.7
Mary & Hector McLean ..... p.11
Angus & Katie McRae ..... p.13
Rory & Mary McLennan ..... p. 13
John & Annie McDonald ..... p.15
Isabella & Angus Gray ..... p. 17
Mary & John Morrison ..... p.17
Roderick J & Annie McCrimmon ..... p.19
Donald J & Harriet McDonald ..... p.21
Addenda 2006 ..... p.23
Cameron Name Index ..... p.27
Some Related Gravestone Inscriptions ..... p.41
Some Related Obituaries/Marriages ..... p.45
Some Related Church Marriage Records ..... p.68
Addenda 2007 ..... p.71
Another Angus Cameron & Ann McLean ..... p.76
Additional obit ..... p.86
Off interest To Your Better Health ..... p.91





Payment options Canada
--- Cheque or Money order Payable to Alex W Fraser, see address below
--- Canada Direct Deposit TD Canada Trust Account,
--- E mail Money Transfer via
via Paypal
---
Kindly Allow Sufficient Time for Processing of your order, for delivery to your Location
Any Comments,
Contact Alex
420 Harmston Avenue, Courtenay, BC, V9N 2X2
Tel # local 250-338-6334;
Toll Free 1-866-338-6334
9am - 7pm pst or
12am - 10pm est,
email info[at]glengarrycounty.com replace 'at' with '@'

Back to GPSSV County Page
Back to Alex's Book Page
page created 3/10/07 update 6/12
View My Stats