Fassifern, Ontario


Youtube


1999,
---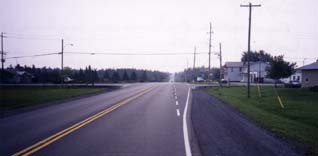 This is a view of Fassifern Corners, Highway 34 & 6th Concession of Kenyon township, on highway 34 looking south towards Alexandria.
Fassifern Store is centre right, just south of 6th concession of Kenyon, opposite on left is 5th concession of Lochiel township.
Photo by & copyrighted by Alex W Fraser, The author of this web site.
---
Our titles in most cases are always available for those interested individuals who desire to purchase a copy & support our efforts. Thanks for this act of Kindness. AWF

WHEN YOU Choose to PURCHASE A BOOK OR CD FROM US YOU ARE MAKING A DONATION TO ASSIST US IN CONTINUING OUR JOURNEY IN PRESERVING GLENGARRY COUNTY & AREA HISTORY

Thank you for that act of Kindness AWF
---
Back to Locator Page
Back to Photo Gallery
Page created Oct.2.99
updated 9/12