St. Andrew's Presbyterian Church, Lancaster, to commemorate the 175th anniversary
Feb 9. 1998, R. R.
The Glengarry News, September 13th,1962, pg. 1, col. 6 & 7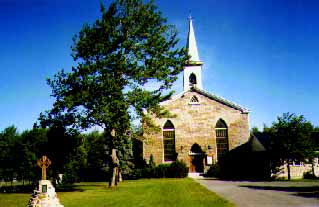 copied in part
Special services will be held in St. Andrew's Presbyterian Church, Lancaster, September 30th, to commemorate the 175th anniversary of he establishment of the Presbyterian congregation at Lancaster in 1787.
--The congregation was established by the Rev. John Bethune,who was the first Presbyterian minister in Upper Canada and the Lancaster congregation has continued to be Presbyterian since that date. The first church building was erected in 1790 and located on the east side of the"old" cemetery. It was a frame structure and the lumber used to build it was brought across Lake St. Francis from Fort Covington.
This building served as place of worship for 65 years. An interesting relic from the old church is a dove which is attached to the wall behind the pulpit in the present church.
The present building known as"the Old Stone Church" was started in 1850. completed and dedicated for services on October 20, 1855. Most of the stone used in the building was quarried in Charlottenburgh and finishes on the church's site by stone masons who were brought out from Scotland. The interior of the church was completely renovated in 1937 and was redecorated in 1960. ---
end of article as we have it, awf nov.9.99
---
Our titles in most cases are always available for those interested individuals who desire to purchase a copy & support our efforts. Thanks for this act of Kindness. AWF
---
Back to History Page